New York's energy future needs to include a mix of renewables, natural gas and other energy sources to ensure the reliable delivery of energy for decades to come.
Thanks to natural gas, the United States has reduced its carbon emissions more than virtually any other nation in the world, including Europe. And thanks to its affordability, natural gas has become the fuel of choice for businesses, manufacturers and consumers. What isn't as well known is that natural gas compliments low-carbon energy solutions by providing the flexibility needed to support a growing renewables component in power generation. [Learn more]
Natural gas and renewables complement each other very nicely … I think it's important to recognize that these industries, although we do compete, are working together to address some of the most pressing energy needs in the country. — (Rhone Resch, CEO of the Solar Energy Industries Association, January 2013)
Clean-burning natural gas currently produces one-third of all electric generation and heats about half of all U.S. homes – and those numbers continue to climb.
In New York, the affordable natural gas supplied by Constitution can underpin the state's strategy to achieve the Clean Energy Standard, which calls for investment in offshore wind and evolution of the state's nuclear fleet, without significant cost impact.
Because wind and solar are intermittent resources, natural gas is essential to supply reserve generation that will be called upon to secure grid reliability when the wind isn't blowing and sun isn't shining.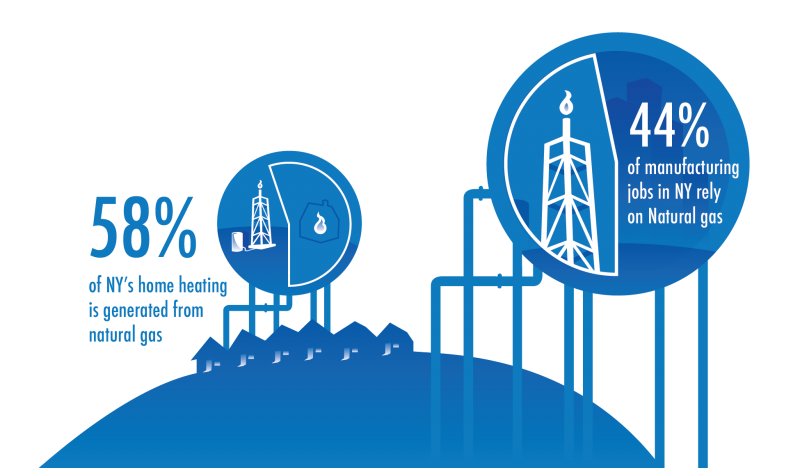 Create Environmental Benefits
Constitution Pipeline is consistent with New York's aggressive plan to tackle climate change. The state's ability to incorporate more wind and solar energy into their power mix is dependent on natural gas combined cycle turbines that will quickly and cost-effectively pick up the slack when the sun doesn't shine or the wind doesn't blow.
Increased utilization of natural gas brings environmental benefits. Case-in-point: New York City's improving air quality.
New York City's air quality reached its cleanest level in 50 years in September 2013. Since 2008, levels of sulfur dioxide dropped 69 percent. Since 2007, soot pollution dropped 23 percent. The primary driver: the phase-out of heating oil in more than 2,700 buildings across the city from 2011 to 2013, a trend accelerated by the availability of affordable natural gas.
According to the city's 2013 estimate, improved air quality is preventing 800 deaths and 2,000 emergency room visits and hospitalizations from lung and cardiovascular diseases annually, compared to 2008.
As then-New York City Health Commissioner Dr. Thomas Farley said in a statement: "Switching to cleaner heating fuels is contributing to dramatic improvements in the air quality of New York City and will help all of us stay healthier."