New York runs on natural gas. New York is the fourth largest natural gas consuming state in the country. Even as the state moves toward embracing more alternative fuel sources, the New York State 2015 Energy Plan projects natural gas usage will continue to grow, firmly establishing itself as the state's dominant fuel for the foreseeable future.
The Constitution Pipeline promises to create a new artery for future economic development and cheap, clean energy. This critical piece of pipeline infrastructure will provide energy consumers access to cost-effective, abundant natural gas supplies.
Constitution Pipeline will:
Create Jobs
Construction of the project is estimated to directly and indirectly create 2,400 jobs and generate $130 million in labor income for the region.  The Project has received support from LiUNA, Teamsters, NY Operating Engineers, Plumbers and Pipe Fitters.
New York State is home to over 39,000 hardworking men and women of the Laborers' International Union of North America (LiUNA). These members continue to strongly support the $800 million dollar Constitution Pipeline project in Broome, Delaware, Otsego and Schoharie Counties. LiUNA also urges the NYSDEC to immediately issue the necessary water quality permits so that this project and its vast economic impact can move forward. — (LiUNA News Release, April 2016)
Constitution Pipeline Company worked with the Center for Governmental Research to develop a formal economic analysis of the potential economic benefits generated by the project. That formal study, which was completed in January 2013 and updated in July 2013, indicates the economic impact during the construction phase would result in $130 million in new labor income in the region, approximately $26 million going to residents of the region.
During the construction phase, it is estimated that the workforce will be comprised of five teams of 260 workers totaling up to 1,300 construction jobs. About 50 percent of the construction workforce is expected to come from in-state labor, with approximately 25 percent of the construction workforce being hired locally (i.e., within the 5-county project area).
Serve Local Homes & Businesses
The Constitution Pipeline will transport enough natural gas each day to serve about 3 million homes – many of which will be located in New York. The Constitution Pipeline is an "open access" pipeline, which means local communities and utilities along the route can tap the line for future residential, commercial or industrial uses. Plans are already underway to provide new natural gas service in parts of Broome, Chenango, and Delaware counties which have never before enjoyed natural gas access. Currently, more than fifty percent of Southern Tier and Central New York residents rely on fuel oils to heat their homes; while a mere eight percent are able to utilize lower-cost, cleaner-burning natural gas.
The Constitution Pipeline can create a backbone for Leatherstocking Gas Company to extend the development of local natural gas distribution franchises in rural communities along the pipeline route in northern Pennsylvania and southern New York," said Leatherstocking CEO Mike German. "We are excited about the possibilities for local service that this new pipeline infrastructure can provide. — [Leatherstocking News Release, March 2014]
Forty-four percent of New York manufacturing jobs depend on natural gas pipelines, underscoring Constitution's critical role in the state's industrial sector. To this end, Constitution will supply the Southern Tier's largest employer, Amphenol Aerospace, which employs 1,000 people at its Sidney, NY manufacturing facility. Constitution is the plant's only way to access natural gas, which will reduce its energy costs by 30-40%, ensuring the firm's competitiveness.
Generate Tax Revenue
Once operational, the Constitution Pipeline's economic impact is anticipated to result in more than $13 million in annual property tax revenue. This project is privately financed with no government subsidies, tax breaks or incentives.  The project will pay millions in annual property tax payments to localities and school districts. Approximately 60 percent of taxes paid by this project will directly benefit local school districts along the pipeline route.
The project is expected to generate $17 million in new sales and income tax revenue. Constitution Pipeline projects to spend about $683 million during the initial three year planning and building process, approximately $166 million of which would directly benefit the five county region. Once operational, the pipeline's economic impact is anticipated to result in $13 million in new annual sales, income and property tax revenue and more than $600,000 in new income in the region. To view the complete study, click here.
Projected Annual Property Tax Benefit:
Broome County – $2.1 million
Chenango County – $1.3 million
Delaware County – $4.9 million
Schoharie County – $4.4 million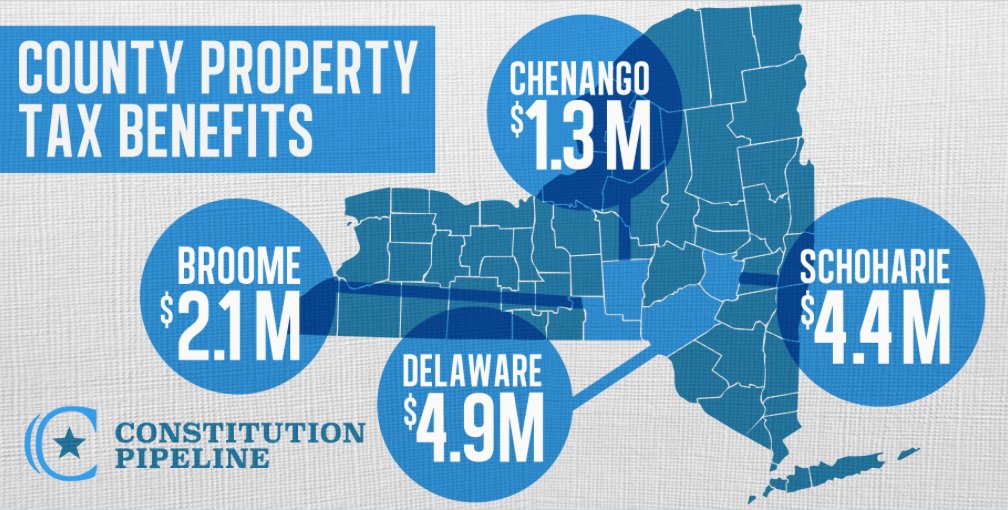 Link New York with Lower-Cost Energy
New York residents currently pay among the highest energy rates in the country. The Constitution Pipeline is positioned to bring New York something it hasn't seen much of in the past decade: cheap natural gas.  Once complete, the pipeline will provide consumers reliable supplies of lower-cost energy — addressing one of the key challenges Upstate New York faces in remaining competitive with other manufacturing regions. This is true for Amphenol Aerospace, one of the largest private employers in the region. Although they've operated in Sidney since the 1920s, they have publicly stated they suffer a 30-40% price disadvantage by not having access to natural gas.