Article originally appeared in National Journal. Reprinted with permission.
New pipelines are bringing New York something it hasn't seen in nearly a decade: cheap natural gas.
Winter weather historically pushes natural gas prices up across the U.S. Recently, however, as the weather turned colder, natural gas prices tumbled, thanks to the record volumes being extracted from energy-rich shale formations using hydraulic fracturing and horizontal drilling.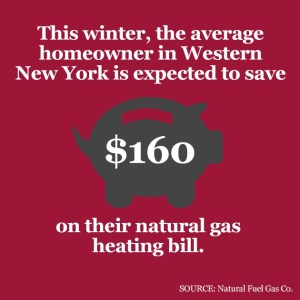 Few states are experiencing the benefits as much as the state of New York, where multiple new pipelines carrying natural gas in from the Marcellus Shale have pushed heating costs down to record lows.
Last October, for example, New York City's natural gas prices made headlines when they dipped 40 cents below those of Louisiana — a phenomenon not seen since eight years prior, Bloomberg Businessweek reported. The drop coincided with Spectra Energy's expansion of its Texas Eastern Transmission Company pipeline to Manhattan, which brought new supplies of gas to the city that pushed down prices.
"This is a huge deal, a total game-changer," Phil Flynn, a senior market analyst at Price Futures Group in Chicago, told Bloomberg. "The New York region is woefully underserved but this helps. Consumers are finally going to start seeing the benefits of cheap natural gas show up in Manhattan."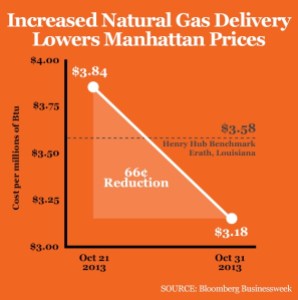 Another project under way, the 124-mile Constitution Pipeline, promises to create a new artery for future economic development and energy supplies when it opens in late 2015 or early 2016. The Constitution will run from natural gas-rich Susquehanna County, Pa., in the Marcellus Shale region all the way up to Schoharie County, N.Y., outside of Albany, crossing through New York's Broome, Chenango and Delaware counties before connecting with two large interstate pipelines: the Iroquois and the Tennessee.
The Constitution is an "open access" pipeline, which means local communities and utilities can tap the line along its route for residential, commercial or industrial uses. One firm, Leatherstocking Gas Company, announced in March 2014 that it would access the line in four places to provide natural gas service where there currently isn't any in parts of Broome, Chenango, Delaware, and Madison counties in New York State and Susquehanna County in Pennsylvania.
"This proposed pipeline promises to provide much-needed natural gas to the region, which will help lower fuel and energy costs — addressing one of the key challenges Upstate New York faces in remaining competitive with other manufacturing regions," Randy Wolken, president and CEO of the Manufacturers Association of Central New York, wrote New York Gov. Andrew Cuomo on Oct. 15, 2014.
Homeowners will also feel the positive effects on their pocketbooks. For example, the average residential customer in Western New York is expected to pay $648 for heat between November and March — $160 less than last winter, according to Natural Fuel Gas Co. That's about 4 percent less than the average winter heating bill over the last five years.
"It's good news for consumers," National Fuel spokeswoman Karen Merkel told The Buffalo News.
All this new natural gas comes with environmental benefits. Case-in-point: New York City's improving air quality. Low-cost natural gas has prompted a growing number of large buildings to turn away from burning oil for heat, which produces far more emissions. Utility Con Edison said that in 2013 at least 1,300 large buildings in the city switched from oil to natural gas, up from 300 in 2011.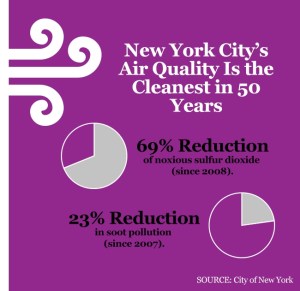 New York City's air quality reached its cleanest level in 50 years in September 2013. Since 2008, levels of sulfur dioxide dropped 69 percent. Since 2007, soot pollution dropped 23 percent. The primary driver: the phase-out of heating oil in more than 2,700 buildings across the city from 2011 to 2013, a trend accelerated by the availability of affordable natural gas.
According to the city's 2013 estimate, improved air quality is preventing 800 deaths and 2,000 emergency room visits and hospitalizations from lung and cardiovascular diseases annually, compared to 2008.
As then-New York City Health Commissioner Dr. Thomas Farley said in a statement: "Switching to cleaner heating fuels is contributing to dramatic improvements in the air quality of New York City and will help all of us stay healthier."
To show your support for Constitution Pipeline, click here.